Pastor Jason Sperling
I am passionate about people, especially their spiritual lives! It is my desire to see spiritually and emotionally healthy people, marriages, families, and relationships. I believe that there is peace and joy for those who seek to live as Christ in all that they do. I also believe that the greatest place for friendships, fellowship, and healing is through the church. I want to see the local church as a safe place to love and serve one another. I also long for our churches to be relevant in our community as we love and serve others.
I have lived in Kansas my entire life, having graduated from Hays High School in 1992. I am a graduate of Calvary Bible College and Theological Seminary (now Calvary University) with a Master of Science degree in Christian Studies (Biblical Counseling focused) and Liberty Baptist Theological Seminary where I received my Master's of Divinity. I have served in the Army Reserves and the Kansas Army National Guard for over twenty three years. I am currently a Chaplain in the Kansas Army National Guard and have been on two deployments to Iraq.
I have been married to my wife, Kim, since November 2007. We currently have four children: a daughter, Karenna, our oldest, and three sons, Micaiah, Isaiah, and Josiah. We home school and participate in the many children's events in town.
Hobbies and Interests
I love to run! I also enjoy woodworking, though I am not great at it, gardening, hiking, and getting out in the country somewhere to spend time with the Lord. I especially enjoy going on long walks with Kim and the few times we are able to get away in order to deepen our relationship.
My Favorite:
Book: Unsure. I do love the Left Behind series. It reminds me that Jesus is coming back soon!
Movie: Any good action movie. The Island is one of my favorites. Mainly because it is one movie that is not predictable.
Favorite Food: Chinese! I could eat this every day! Second favorite: Bar-B-Que. Third favorite: traditional Kansas food (i.e. potatoes, beef and cooked veggies - though not potato salad or coleslaw, though I am learning to like these foods)
Favorite place in Independence, KS: ANE MAES!!! I could live there, though I would miss my family;)
Matthew Wint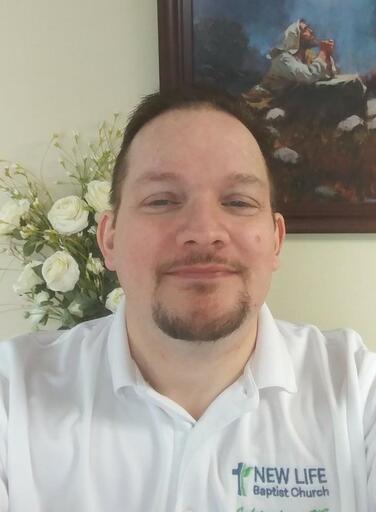 Matthew Wint is our associate pastor. He primarily oversees the church's discipleship ministry. Check back soon for more information.
Youth Minister - Dan Carter
Dan has been teaching teens for many years. He has a heart for our youth and desires that each teenager he teaches will grow up to be like Christ. Dan disciples our kids on Sunday mornings at 9:30 and is available throughout the week to talk with and listen to the concerns of our youth.